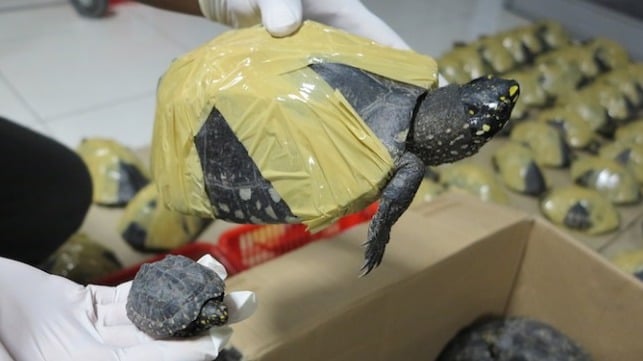 Black Spotted Turtle
_x000D_
BY MAREX 2018-05-28 20:41:20
_x000D_
Asia's illegal trade in the Black Spotted Turtle is spiraling out of control with a new TRAFFIC study showing over 10,000 individuals have been seized in two years, eclipsing numbers recorded in a previous six-year study.
_x000D_
Black Spotted Turtle Trade in Asia II: A seizure analysis revealed that at least 10,321 live Black Spotted Turtles were confiscated in 53 seizures between April 2014 and March 2016. These numbers represent a huge increase from the 2,171 turtles seized in 26 cases recorded between January 2008 and March 2014.
_x000D_
The turtle, once wanted for its meat, is now an increasingly popular pet and favored among wildlife smugglers with many turtles observed for sale in Asian markets or in online trade. The turtle is protected by national laws throughout its natural range and is listed in Appendix I of CITES, prohibiting all commercial international trade. Nevertheless, Asian demand continues to fuel illegal harvesting and smuggling of the species.
_x000D_
Black Spotted Turtles are primarily sourced in India, Pakistan and Bangladesh and subsequently transported to Hong Kong and mainland China, often through Southeast Asian transit hubs. Thailand has been implicated most consistently since 2009, accounting for about half of all Black Spotted Turtles seized since 2009.
_x000D_
The report names India as the country with the highest number of seizures, accounting for 29 percent of all turtles seized, and lists Hong Kong second during the study period.  All recorded seizures involved shipments of live animals, although in a number of cases large numbers of specimens were found to have died in transport. In one quarter of the incidents, Black Spotted Turtles were found alongside other smuggled wildlife, mostly involving other Asian freshwater turtle and tortoise species such as Indian Star Tortoises, Indian Tent Turtles and Indian Roofed Turtles.
_x000D_
The preferred mode of transportation for smuggling turtles seemed to be by commercial flights, with most seizures taking place at international airports. Sea transport was used in two reported cases.
_x000D_
Besides functioning as a retail zone, Hong Kong is likely to serve as a trade gateway to mainland China. According to an anonymous source, some freshwater turtle species are traded through Hong Kong and subsequently transported to captive breeding facilities in mainland China that cater to the domestic market. Imported shipments are typically transported by van or lorry to the northern shores of Hong Kong. Shipments are then taken to Shenzhen in mainland China with the use of speedboats so as to avoid border control on overland routes.
_x000D_
Overall, although 55 suspects were arrested in connection with seizures between April 2014 and March 2016, confirmed convictions remained scarce, with only 20 percent of arrests resulting in a conviction.
_x000D_
The report states that enforcement efforts should particularly be enhanced at the identified trade hotspots (Karachi in Pakistan, Chennai in India, various places along the India-Bangladesh border
including Kolkata and Kalanchi, the airports of Dhaka (Bangladesh) and Bangkok (Thailand), Malaysian transport hubs including Kuala Lumpur International Airport and Port Klang, and the
airport, port and markets in Hong Kong).
_x000D_
"Asia's illegal turtle trade has occurred at such a scale and pace that turtles have now become one of the world's most threatened groups of animals," said Dr. Sonja Luz, Director of Conservation, Research, and Veterinary Services at Wildlife Reserves Singapore, the organization that funded the report.
_x000D_
_x000D_
source: www.maritime-executive.com