_x000D_
BY MAREX 2018-05-27 23:20:58
_x000D_
The U.S. National Transportation Safety Board has released its report into the June 7, 2017 accident involving the unmanned crane barge Troy McKinney, which broke free from its mooring and struck overhead power lines crossing the Harvey Canal in Harvey, Louisiana. No pollution or injuries were reported. Damage to the crane barge was negligible, but damage to the power lines totaled about $440,000.
_x000D_
According to AIS data, about 2005 in the evening, the towboat Gail Cecilia, pushing ahead the tank barge Gonsoulin 127, passed the Troy McKinney at a speed of about 4.8 knots. The tow was moving from north to south, and shortly after the Troy McKinney started to break away from the berth. About 16 minutes later, she made contact with the power lines.
_x000D_
The U.S. Coast Pilot 5 does not mention a speed restriction for the Harvey Canal. According to Gail Cecilia's captain, who said he had made about 200 trips as towboat captain with tows in the Harvey Canal, 4.8 knots was his normal speed in that part of the waterway. Investigators determined that the wind speed at the time of the breakaway was between 11 and 16 knots. However, neither the prevailing wind conditions nor the speed and wake of the Gail Cecilia tow appeared to be extraordinary circumstances that would have caused a properly moored vessel to break free from its mooring.
_x000D_
Investigators determined that the Troy McKinney's mooring lines were led from vessel to shore at an angle insufficient to prevent the barge from moving forward, or to the south, as the Gail Cecilia tow passed. Forward and aft movement is best prevented by forward- and aft-leading lines.
_x000D_
The National Transportation Safety Board determined that the probable cause of the accident wash the barge's insufficient mooring arrangement.
_x000D_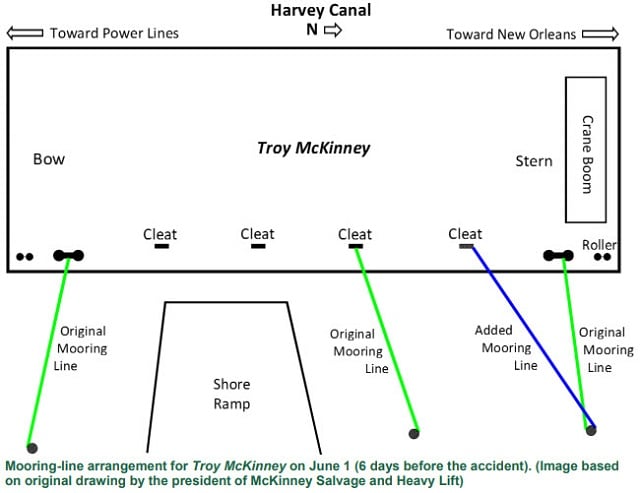 _x000D_
_x000D_
source: www.maritime-executive.com