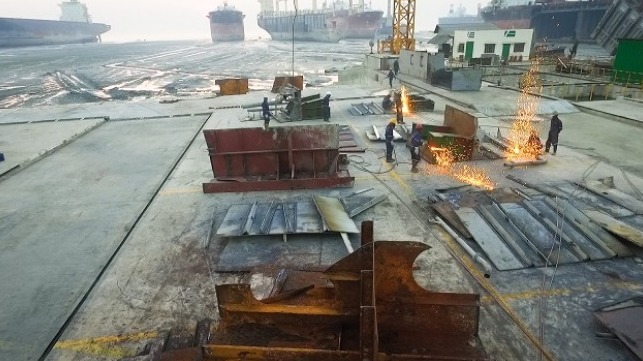 PHP yard_x000D_
By MarEx 2018-07-11 20:43:10
_x000D_
PHP Shipbreaking and Recycling Industries of Bangladesh has bought its first vessel to be                         recycled in accordance with the Hong Kong Convention.
_x000D_
PHP was the first Bangladeshi recycling facility to receive statement of compliance with the                        convention in October 2017. The statement was obtained from RINA.
_x000D_
The Hong Kong Convention, adopted in 2009 but not yet entered into force, includes                                  regulations for shipowners, recycling facilities, flag states and recycling states to ensure                             that end-of-life ships do  not pose any unnecessary risks to human health, safety and                                 the environment when being recycled.
_x000D_
The vessel Ore Vitoria was purchased from Brazilian mining company Vale.
_x000D_
"This is a historic moment for Bangladesh," said Managing Director of PHP,                                                 Md. Zahirul Islam.
_x000D_
"We had to work tirelessly for the last four years to get to this point,  and                                                      we are extremely proud to receive the first Hong Kong Convention vessel in Bangladesh."
_x000D_
Covering an impermeable floor of 15,000 square meters at the edge of the Bay of Bengal,                        the PHP facility is a pioneer in green and sustainable ship recycling in Bangladesh, he says.
_x000D_
In May, shipowners associations BIMCO, ECSA, ICS and INTERTANKO issued a joint appeal                  for the ratification of the Hong Kong Convention.
_x000D_
The convention requires the approval of 15 states and 40 percent of world merchant shipping                     to enter into force.
_x000D_
So far, six states have ratified the convention.
_x000D_
source: www.maritime-executive.com
_x000D_
_x000D_