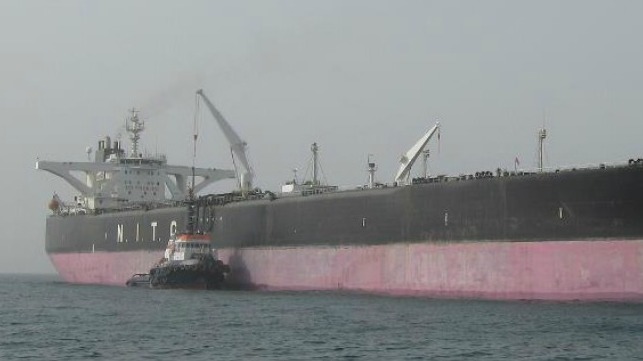 VLCC belonging to the National Iranian Tanker Company (file image courtesy NITC)
_x000D_
By MarEx 2018-09-26 19:24:23
_x000D_
_x000D_
Russia, China and the EU are designing a way for their businesses to continue to conduct trade with Iran, despite renewed U.S. sanctions.
_x000D_
_x000D_
The new entity, called a "special purpose vehicle," or SPV, would provide a way to barter for Iranian imports and exports, without running afoul of the American prohibition on dollar transactions with Iran. An EU-backed organization would handle these barter deals, but without ever transferring funds to or from Iran. The arrangement could also be available to "other partners in the world," according to EU foreign policy head Federica Mogherini.
_x000D_
_x000D_
The SPV would allow businesses to trade with Iran without sending money through SWIFT, the global financial clearinghouse. SWIFT may close off access for Iranian banks once the full range of sanctions take effect.
_x000D_
_x000D_
The danger of American penalties could still be too great for major multinational corporations to use this arrangement, analysts warned. A company found to be in violation of sanctions on Iran could lose access to the U.S. market and the U.S. financial system, which would be a serious blow for any large firm.
_x000D_
_x000D_
Since the downside risk of using the SPV is so large, its value could ultimately be symbolic rather than economic. "The key is to keep all possibilities open so that we can signal to the Iranians that the door isn't closing," a senior French diplomat told Haaretz. Most large European businesses, including Siemens, Daimler, Total, Maersk, MSC, and CMA CGM, have already announced plans to pull out of Iran before the sanctions take effect.
_x000D_
source: www.maritime-executive.com
_x000D_
_x000D_