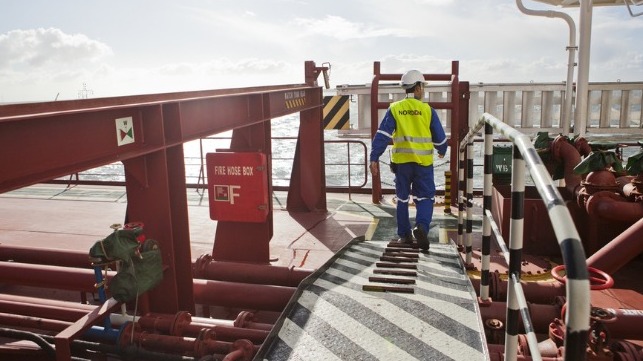 _x000D_
By MarEx 2018-10-29 18:09:11
_x000D_
_x000D_
The shipowner organization Danish Shipping has warned that E.U. plans could mean additional financial and administrative burdens for the industry if seafarers are brought under the rules set out in the E.U. directive on transparent and predictable working conditions.
_x000D_
_x000D_
Ever since the European Commission presented its proposal for a directive on "Transparent and predictable working conditions in the European Union," the Working Conditions Directive, there have been heated discussions in Brussels, says Danish Shipping. The proposed directive is linked to the  European Pillar of Social Rights. The pillar was adopted last year at a Social Summit in Gothenburg, where Denmark together with the other member states joined 20 non-binding declared intentions with the aim of securing minimum rights within social and employment policies in the E.U.
_x000D_
_x000D_
The ambition of the proposed directive has been to introduce minimum rules across all sectors of the European labor market. This also applies to the maritime industry, which is already subject to special rules already regulated at international level through, for example, the Maritime Labor Convention and the Convention on Standards of Training, Certification and Watchkeeping for Seafarers. Both conventions are implemented in E.U. law.
_x000D_
_x000D_
Danish Shipping finds this very frustrating: "It is a shame that there is no responsiveness to the fact that shipping is regulated at international level and that it does not benefit European shipping companies to introduce special rules which instead will weaken their competitiveness. We are a global industry and we fight for global rules. The protective considerations towards employees in this directive have already been taken into account in internationally applicable rules," says Anne Windfeldt Trolle, Executive Director, Danish Shipping.
_x000D_
_x000D_
As current conventions already regulate areas such as working hours and employment contracts, Danish Shipping has been working to introduce a partial exemption for seafarers. However, it has been rejected by the Committee on Employment and Social Affairs in the European Parliament. The next step in the legislative process is the trilogues, where representatives from the European Parliament, the Council of Ministers and the European Commission negotiate with the aim of reaching a compromise on the legislative text before the proposal for a directive is formally voted by respectively the European Parliament and the Council of Ministers.
_x000D_
_x000D_
"It is crucial that the governments of the member states manage to ensure exemptions for industries operating under very special conditions, as is the case for the European maritime industry," says Trolle.
_x000D_
source:www.maritime-executive.com