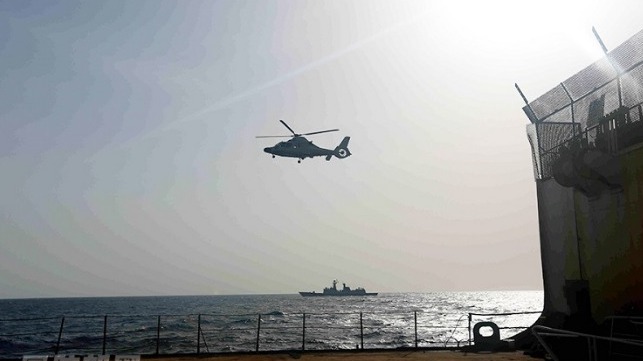 A ship-borne helicopter attached to the Chinese frigate Xuzhou flies close to the Chinese merchant ship                           Zhenhua 25. (mod.gov.cn/Photo by Zhang Qian)_x000D_
By MarEx 2019-01-01 17:42:45
_x000D_
China has highlighted its anti-piracy efforts over the past 10 years, noting its naval fleets have                    escorted 3,400 foreign ships, around 51 percent of the total escorted over that time.
_x000D_
The first escort fleet was sent to the Gulf of Aden and waters off Somalia on December 26,                  2008. It was the first time that China deployed its armed forces overseas to protect national             strategic interests, the first time China sent navy combat units overseas to fulfill international     humanitarian obligations and the first time China protected important sea lanes overseas
_x000D_
China's anti-piracy missions have become more efficient over the time, with ship-borne helicopters            able to scramble three times faster and special operations personnel able to deploy twice as quickly.
_x000D_
Protection provided by China's navy has been widely praised, said a Department of Defense            statement: some foreign ships would rather wait several days to be escorted by the fleet.                         Of note, was an incident in 2010 where the frigate 530 Xuzhou attended a pirate attack on                Chinese-flagged cargo ship Tai An Kou. After an intense battle, all 21 crew members were rescued.
_x000D_
China employed 10 domestic-made battle ships and three supply ships in the waters off Somalia          from 2008 to 2011. These vessels were then joined by the guided-missile frigate Yulin, and two                 years later,by three new supply ships.
_x000D_
As part of its blue-water naval development, the Chinese People's Liberation Army (PLA) support              base in Djibouti was established on July 11, 2017. This was China's first overseas support base,                designed to enable more timely replenishment for the navy, facilitate equipment maintenance and              crew rest.
_x000D_
Globally, 31 fleets (100 ships) have escorted over 6,600 ships, rescued over 70 ships in danger            and captured three pirates. The ships participated in the search for the missing Malaysian                 airliner MH370, provided emergent water supplies to the Maldives, provided military escorts                       to cargo ships transporting Syrian chemical weapons, and when a civil war broke out in                              Yemen in 2015, three Chinese vessels helped evacuate over 900 people from 15 countries.
_x000D_
China held around 40 joint military exercises with over 30 nations in 2018. A New Year's Day              editorial in the PLA Daily says that strengthening training and preparation for war are among                  the top priorities for China's military in 2019. "Drilling soldiers and war preparations are the          fundamental jobs and work focus of our military, and at no time should we allow any slack in                these areas."
_x000D_
President Xi Jinping has urged the PLA to boost its combat readiness since he took office in 2012.             In his New Year's Day address, he notes that 2019 is the 70th anniversary of the founding of the     People's Republic of China. "Our country has braved thorny paths and confronted stormy weather             over the past seventy years… Looking at the world at large, we're facing a period of major change        never seen in a century. No matter what these changes bring, China will remain resolute and            confident in its defense of its national sovereignty and security. And China's sincerity and                goodwill to safeguard world peace and promote common development will remain unchanged."
_x000D_
source: www.maritime-executive.com
_x000D_
_x000D_
_x000D_
_x000D_