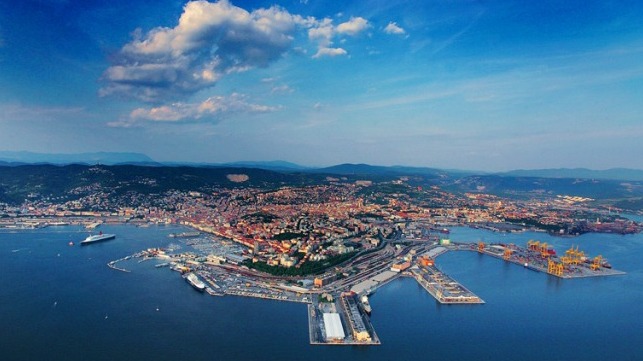 Port of Trieste (NAPA)
_x000D_
By MarEx 2019-03-21 18:19:10
_x000D_
_x000D_
Italy's government is headed squarely for a deal with China on direct investment in as many as four major seaports, explicitly endorsing Beijing's "belt and road" economic development program.
_x000D_
_x000D_
"Our ports – I am thinking in particular those of Genoa and Trieste – can apply for the role of terminals in Europe for the New Silk Road," said Italian prime minister Giuseppe Conte last week. Conte used Beijing's preferred language to describe potential Chinese investments, and he referred to Italy as the "historic terminal of the ancient Silk Road." The full title of Chinese president Xi Jinping's trillion-dollar "Belt and Road" program is the "Silk Road Economic Belt and the 21st Century Maritime Silk Road," evoking a connection with China's historical trading routes to Europe.
_x000D_
_x000D_
Xi Jinping will be visiting Italy this week, and an announcement of a ports agreement is expected as part of a broader package of deals. In addition to Genoa and Trieste, the deal could include investments at Palermo and Ravenna, according to the South China Morning Post.
_x000D_
_x000D_
Although China has made significant investments in EU ports before, other members of the European Union have cautioned Italy to be wary of allowing Beijing more access to its economy and its waterfront. The agreement could differ from earlier investments in one symbolic respect: Italy is expected to formally join the Belt and Road initiative, which would be the most prominent endorsement from a Western nation to date.
_x000D_
_x000D_
The United States has criticized Conte's government for considering the move. "Italy is a major global economy and great investment destination. No need for [the] Italian government to lend legitimacy to China's infrastructure vanity project," said White House spokesman Garrett Marquis in a statement.
_x000D_
_x000D_
Critics of the Belt and Road initiative warn that Chinese development loans typically come with high interest rates, and the Chinese construction and business activities that follow may create new security risks from Chinese military or intelligence activity. Some of these projects have not fared well as business propositions, like the port of Hambantota, Sri Lanka: This greenfield port project on Sri Lanka's southern coast never attracted significant traffic, and the Sri Lankan government eventually sold its use to China Merchants Port Holdings in order to pay down its debt.
_x000D_
source :www.maritime-executive.com