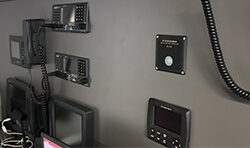 GENERAL OPERATOR GMDSS
COURSE CATEGORY: STCW
APPROVED BY: The Republic of Cyprus and the Republic of the Marshall Islands.


DURATION: 12 or 18 days
COURSE OBJECTIVES AND BENEFITS
General Operator GMDSS course covers the training recommendation in annex 3 to IMO Assembly resolution A. 703 (17) Recommendation on Training of Radio Operators related to the General Operator's Certificate (GOC).
A trainee successfully completing this course and passing the prescribed examination will be enabled to efficiently operate the GMDSS equipment, and to have primary responsibility to radio communications during Distress incidents. Given the severe problems being experienced in the GMDSS as a result of the large number of false Distress alerts that sometimes occur, training will also be provided in techniques to avoid the unintentional transmission of false Distress alerts and the procedures to use in order to mitigate the effects of false Distress alerts following unintentional transmission.