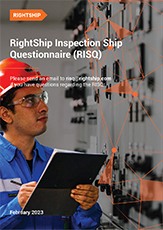 RIGHTSHIP'S RISQ 3.0 VETTING INSPECTION AWARENESS
COURSE CATEGORY: Operational Deck, Management
DURATION: 3 Days
Course recommended by:

COURSE OBJECTIVES AND BENEFITS
Rightship's RISQ 3.0 Vetting Inspection Awareness objective is to create awareness on the objectives of the Rightship Dry Inspection, looking into Rightship's ship inspection questionnaire and completion methods, inspection procedure, scope and guide to timing of inspection, non-conformities and inspection report and the role of vessel's manager.

Who Should Attend: Course is intended for Ship's Masters, officers and crews. It can also be attended by shore-based personnel.
This course is recommended by Rightship's RISQ 3.0 protocol.