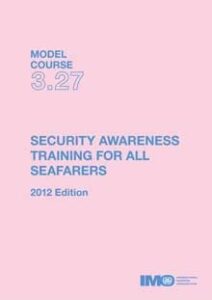 SECURITY AWARENESS TRAINING FOR ALL SEAFARERS
COURSE CATEGORY: STCW
APPROVED BY: The Republic of Cyprus and the Republic of the Marshall Islands.


DURATION: 1 day
COURSE OBJECTIVES AND BENEFITS
This course is intended to provide the knowledge required to enable personnel without designated security duties in connection with a Ship Security Plan (SSP) to enhance ship security in accordance with the requirements of Chapter XI-2 of SOLAS 74 as amended, the ISPS Code, and section A-VI/6-1 of the STCW Code, as amended.
Objectives
Those who successfully complete Security Awareness Training For All Seafarers course should achieve the required standard of competence enabling them to contribute to the enhancement of maritime security through heightened awareness and the ability to recognize security threats and to respond appropriately. This knowledge includes, among other topics:
-the meaning and the consequential requirements of the different security levels
-knowledge of emergency procedures and contingency plans
-recognition and detection of weapons, dangerous substances, and devices
-recognition, on a non-discriminatory basis, of characteristics and behavioural patterns of persons who are likely to threaten security
-techniques used to circumvent security measures.