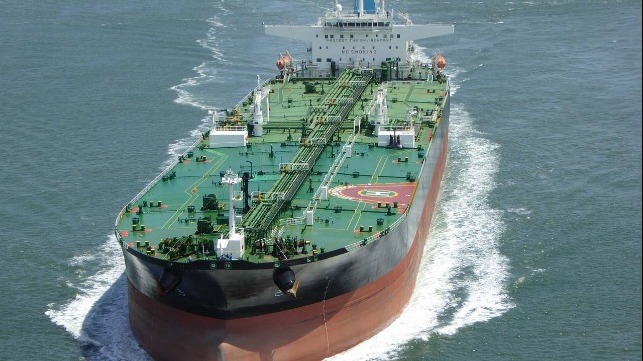 File image_x000D_
By MarEx 2018-07-25 20:57:10
_x000D_
On Wednesday, Saudi Arabia's state oil company announced that it would suspend all                               shipments through the Strait of Bab el-Mandeb after an attack on its tankers off the                                     coast of Yemen. The halt will affect the flow of crude from the world's top oil exporter                                   to markets in Europe and the United States.
_x000D_
"In the interest of the safety of ships and their crews and to avoid                   the risk of oil spill, Saudi Aramco has temporarily halted all oil                     shipments through Bab El-Mandeb with immediate effect.                                  The company is carefully assessing the situation and will                               take further action as prudence demands,                                                          " Aramco said in a statement.
_x000D_
Saudi Arabia's oil minister, Khalid Al-Falih, confirmed that two VLCCs operated by state-owned              shipping company Bahri were attacked by Houthi rebels Wednesday morning in the Red Sea.                    One of the ships sustained minimal damage, according to Saudi Aramco. No injuries or pollution               have been reported.
_x000D_
Earlier in the day, Houthi rebels claimed responsibility for an attack on an unnamed Saudi                          tanker off the contested port of Hodeidah, Yemen. The Saudi-UAE coalition backing the                         Yemeni government in the nation's long-running civil war confirmed that the attack had                          resulted in slight damage to one vessel.
_x000D_
Wednesday's incidents were the latest in a long series of Houthi attacks on merchant and                    naval vessels off the coast of Yemen. In April, Houthi armed militias conducted a missile                            attack on the tanker Abqaiq, resulting slight damage to her bow. At the time, Minister al                               Falih said that the attack would not "affect economic activity or stall oil supplies."
_x000D_
Geopolitical implications
_x000D_
In an essay for Forbes, energy and geopolitics scholar Ellen R. Wald noted that the                                halt in energy shipments could provide justification for the involvement of foreign forces                               in the Yemeni conflict. The United States provides material assistance to Saudi forces,                                including aerial refueling, tank parts and aircraft repairs, but is not currently engaged in                               an open conflict with the Houthi side. "The Red Sea is a very important shipping lane.                                 If there is a major disruption European powers, Egypt and the United States would all                                  have reason to intervene," she wrote.
_x000D_
The Houthi rebels are widely believed to be backed by Iran, Saudi Arabia's primary                                     competitor for regional influence. Separately, Iran has also threatened to close the                                 Strait of Hormuz – the strategic chokepoint at the mouth of the Persian Gulf – if the                                       United States should reimpose sanctions on Iranian oil exports over Tehran's                                               former nuclear weapons program.
_x000D_
source: www.maritime-executive.com
_x000D_
_x000D_
_x000D_