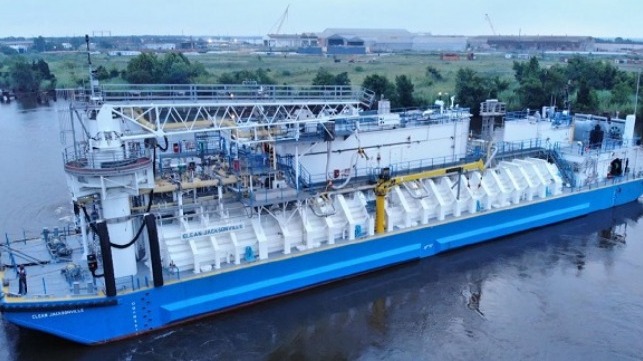 Clean Jacksonville_x000D_
By MarEx 2018-08-20 20:03:1ο
_x000D_
The first LNG bunker barge built in North America has been delivered by                Conrad Industries to TOTE Maritime Puerto Rico.
_x000D_
The Clean Jacksonville was constructed at Conrad Orange Shipyard in Texas, with gas trials                    undertaken in Port Fourchon, LA. The vessel, with a 2,200 cubic meter LNG capacity, will enter             service for TOTE Maritime Puerto Rico in the Port of Jacksonville, Florida, where the vessel                      will bunker two Marlin Class container ships operating on LNG fuel between Jacksonville and                    San Juan, Puerto Rico.
_x000D_
The two 764-foot Marlin-class vessels, the Perla del Caribe and the Isla Bella, were built               by General Dynamics NASSCO in San Diego and delivered in late 2015 and early 2016.
_x000D_
They have so far been bunkering by truck at Jacksonville.
_x000D_
Both ABS and the U.S. Coast Guard collaborated on the bunker barge project which is also                        the first time a GTT membrane system has been installed in a non self-propelled barge in the U.S.
_x000D_
LNG bunkering is expanding in the region. Earlier this year, Crowley Maritime's new con/ro                        El Coquí delivered its first cargo from Florida to Puerto Rico. El Coquí, a sub-Panamax                       container ship and ro-ro built by VT Halter, is among the first of her kind to be powered by LNG.
_x000D_
According to LNG World Shipping, there are six LNG bunkering vessels in service and a further                 12 on order.
_x000D_
source: www.maritime-executive.com
_x000D_
_x000D_