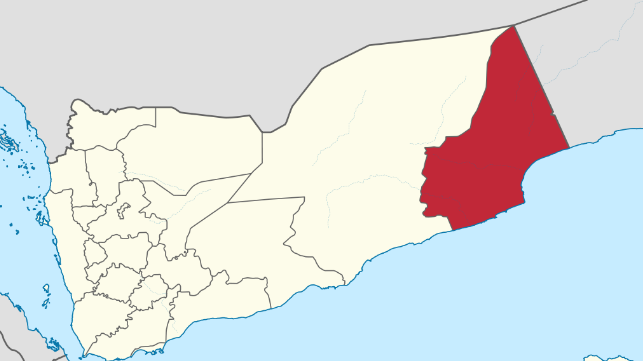 al-Mahra, Yemen, in red (Wikimedia)
_x000D_
By MarEx 2018-08-23 18:39:16
_x000D_
_x000D_
Saudi Arabia may be planning to construct an oil terminal in al-Mahra, Yemen, an area that Saudi-allied forces currently control.
_x000D_
_x000D_
According to a letter reviewed by Al Jazeera, the Saudi marine construction company Huta Marine has been asked to formulate a proposal for an oil port in al-Mahra. Yemeni media have previously discussed rumored plans to build a pipeline from Saudi oil fields to al-Mahra, giving Saudi Aramco an export terminal on the Arabian Gulf.
_x000D_
_x000D_
al-Mahra is Yemen's easternmost province, and is far from the fighting between Saudi coalition forces and Houthi rebels on Yemen's Red Sea coast. It has escaped the worst effects of the four-year conflict, but it is widely seen as a smuggling gateway for Iranian arms bound for rebel forces, and the UAE and Saudi forces have deployed troops to the area in an attempt to secure it. These arms – including sophisticated missile components – are allegedly smuggled into Oman by sea, then carried overland into al-Mahra and onward to the west.
_x000D_
_x000D_
For Saudi Arabia, a petroleum port in al-Mahra  would offer a different strategic advantage: it would not be constrained by the Strait of Hormuz or the Strait of Bab el-Mandeb, two strategic choke points that both affect its current shipping routes. Iran has repeatedly threatened to shut the Strait of Hormuz by force, and Houthi rebels have successfully attacked Saudi tankers near Bab el-Mandeb.
_x000D_
_x000D_
A pipeline from Saudi oil fields to al-Mahra would likely have to cross the vast sands of the Empty Quarter, or Rub' al Khali Desert. Saudi Arabia's most productive wells are to the north of the desert, clustered near its Persian Gulf coast.
_x000D_
source: www.maritime-executive.com