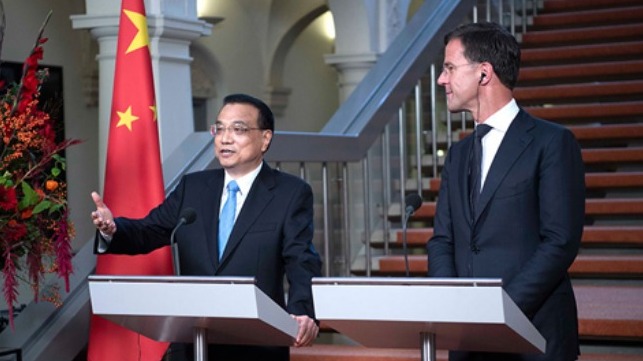 Li Keqiang and Mark Rutte
_x000D_
By MarEx 2018-10-16 19:35:21
_x000D_
_x000D_
China and the Netherlands appealed for global efforts to promote free trade and safeguard multilateralism on Monday.
_x000D_
_x000D_
In a joint press conference with Dutch Prime Minister Mark Rutte in The Hague, visiting Chinese Premier Li Keqiang said that the two countries will work together with all sides to boost free trade and further improve the multilateral trading system against the backdrop of growing uncertainties.
_x000D_
_x000D_
"Free trade is not a rejection of fair trade," Li said. "Without free trade, there is no fair trade; while without fair trade, free trade will not gain sustainable development."
_x000D_
_x000D_
The two nations pledged to jointly safeguard multilateralism and free trade to send positive signals to the world that China, the Netherlands as well as Europe are maintaining a rules-based international order and are committed to the facilitation and liberalization of trade and investment, Li said.
_x000D_
_x000D_
Li and Rutte said they did not specifically discuss the trade war between China and the U.S.
_x000D_
_x000D_
Li said China and the Netherlands need to open markets wider to each other, deepen cooperation in traditional industries including agriculture and energy, and seek new cooperation in such fields as hi-tech manufacturing and services. During their talks, the two leaders agreed to further enhance cooperation between their countries against climate change, population ageing and other global challenges.
_x000D_
_x000D_
Rutte urged all big countries to work collectively on an open, fair and multilateral trading system. "Free and fair trade is about not only how we can share the cake, it is also about how we can make the cake bigger," he said, confirming that the Netherlands will work with China to further promote bilateral ties and cooperation.
_x000D_
_x000D_
The Netherlands is China's second-largest trade partner in the European Union, and China is the Netherlands' second-largest non-E.U. trade partner. Contracts worth $10 billion are expected to be signed between Dutch and Chinese companies during Li's two-day visit to the Netherlands.
_x000D_
_x000D_
The visit to the Netherlands is Li's first as Chinese premier and also the first by a Chinese premier in 14 years.
_x000D_
source: www.maritime-executive.com