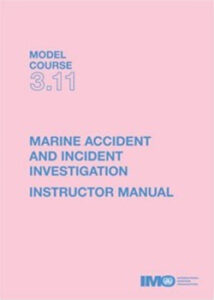 INCIDENT INVESTIGATION & ROOT CAUSE ANALYSIS
COURSE CATEGORY: SSQHE
DURATION: 1 Day
Course recommended by:

COURSE OBJECTIVES AND BENEFITS
This course is intended to provide participants with an understanding to each company's methodology for investigating incidents and analyzing management system performance to solve problems and optimize performance. The application of widely used investigative tools can make the analysis more effective and efficient. This course helps develop skills for structuring an investigation program for a company.
Course Highlights
-Basics of accident and near-miss incidents and investigations
-Initiating the investigation
-Gathering people, physical, paper, electronic and position data
-Workshop: post-incident interviewing skills
-Analyzing data
-Workshop: 5-Whys and fault trees
-Workshop: causal factor charting
-Determining root causes
-Workshop: identifying root causes using the marine Root Cause Analysis map technique
-Developing conclusions and recommendations
-Developing and implementing an incident investigation program
-Demonstration of incident investigation software
Who Should Attend: Marine personnel who have responsibility for conducting, reviewing or participating in incident investigation analyses
This course is recommended by Rightship's RISQ 3.0 protocol.