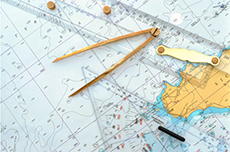 VOYAGE PASSAGE PLANNING
COURSE CATEGORY: Operational Deck
DURATION: 1 Day
Course recommended by:

COURSE OBJECTIVES AND BENEFITS
The course is dealing with the basic and essential stages of ship's passage planning, that include a complete description of the ship's passage which is prepared by an experienced deck officer of the ship. This is done to ensure that the ship sticks to the required routes for reaching the port of destination safely, by abiding to both local and international rules and regulations.
Topics covered:
-Appraisal
-Planning
-Execution
-Monitoring

This course is recommended by Rightship's RISQ 3.0 protocol.